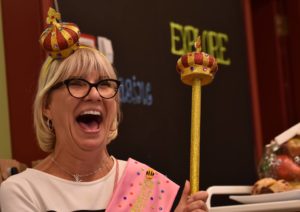 Welcome to the 2017-2018 School Year. It is a pleasure to join the Frank Hobbs Elementary School Community for my second year. Though I thoroughly enjoyed the rejuvenation that our sun-filled summer offered, I must say that the excitement and preparations at Frank Hobbs the past few weeks have been inspiring. Our custodial staff, alongside teams from our district facilities, have worked hard to create a safe and welcoming physical space. Our office staff has been busy organizing and ensuring an efficient start-up to the new school year. Throughout the summer teachers have been coming in to the school arms loaded with boxes and supplies and dropping by my office to share their excitement about new plans for their classroom. Sometimes the teachers had their own children in tow and in several cases volunteer friends arrived to help set up classrooms. It has been heartening to see the dedication the Frank Hobbs Staff brings to their work. And each staff member, without exception, has shared that the Frank Hobbs students and families are wonderful to work with. I am so looking forward to joining this learning community.
As I anticipate the faces of students entering Frank Hobbs on their first day, I am reminded of my own son on his first day of Grade 1. As he stood in line with bright-eyed anticipation, I said to him, what was to become our family motto of almost twenty years…"Be good, try hard and have fun."
Be Good
Be and do what is right for the world, hold tight to your moral compass, live with compassion
Try Hard
Have a strong work ethic, stick to your commitments, practice true grit,
Have Fun
Live a passion based life, keep a playful spirit, embrace the surprises and humour, and love with abandon
I didn't know that day, and almost every day after, including to this day, that when my sons and I offer a farewell to each other, we say, "Be good, try hard, have fun." Six simple words that encapsulate almost everything I believe about becoming fully developed human beings. Sometimes the power of simplicity can be surprising.
As the new Principal to Frank Hobbs, I invite you and all of the Frank Hobbs Community to join me in embracing those six words as we live out our year together.
Be good, try hard and have fun~
Ingrid Fawcett
Principal